Danny Clisham - Announcer
The Skytalker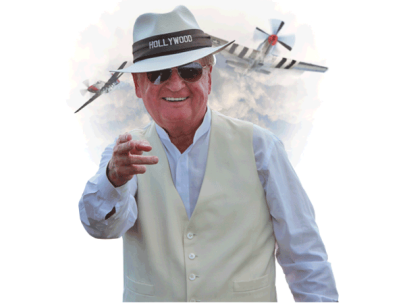 He is North America's most beloved air show announcer and in 2015 he will be celebrating 50 years in air show announcing! Still as dynamic and crowd stirring as he was on that day in October 1965 when he first took the microphone, Danny Clisham continues to bring excitement and an encyclopedic air show knowledge to shows across the United States and Canada.
Known for fresh, lively, knowledge-based commentary, Danny Clisham is one of America's most popular air show announcers. Sponsoring organizations have long relied on Danny's professionalism and credibility to repeatedly put on performances that thrill audiences and keep them coming back year after year.
A member of the Air Show Hall of Fame, Danny's talents as an actor and a pilot have served him well in Hollywood, where his credits include both sides of the silver screen. He has provided on-screen and voice-over work on film features and has served as an aerial stunt coordinator, a stunt double, and safety advisor on feature films and hit TV shows.
For more information, please visit:
All 2020 purchased tickets and parking permits will be honored at the 2022 Vero Beach Airshow. Thank you for your continued support!
Be the First to Know

Sign up for 2022 Vero Beach Air Show news alerts. We'll send you an occasional email to let you know about any special offers, what's happening in the show, and when and where tickets will be available. Up-to-the-minute news can also be found at our Facebook and Twitter pages.