Kevin Coleman
Kevin Coleman is one of the younger pilots on the airshow circuit, flying an Extra 300 SHP with a roll rate of 400 degrees per second and +/-10g capabilities at only 27 years of age. He is a second-generation pilot and air show performer, flying his first show at only 18, and took lessons and aerobatic training with late aviation and aerobatic legend Marion Cole at age 10. Since then, Kevin has logged more than 2,500 hours, has flown at the Red Bull Air Races, and has earned a spot on the U.S. Advanced Aerobatics Team.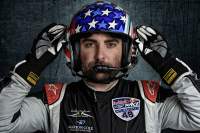 All 2020 purchased tickets and parking permits will be honored at the 2022 Vero Beach Airshow. Thank you for your continued support!
Be the First to Know

Sign up for 2022 Vero Beach Air Show news alerts. We'll send you an occasional email to let you know about any special offers, what's happening in the show, and when and where tickets will be available. Up-to-the-minute news can also be found at our Facebook and Twitter pages.